There can be no talk of sustainability without thinking about environmental sustainability. Climate change is affecting our planet and the problems this brings are numerous. Solutions do exist and some local initiatives are flourishing. This is the green side of the Force!
Financing sustainable agriculture
Agriculture is a sector greatly affected by climate change. Alterfin is investing EUR 24 million in 59 partners who work in sustainable agriculture. In total, over 100,000 small farmers and producers are financed across the world. Together, they cultivate 420,000 hectares of land sustainably and produce 19 agricultural products. Moreover, 90% of their sales are certified (fair trade, organic farming or other certification such as UTZ or Rainforest Alliance). These different labels establish environmental standards which the producers have to respect. They produce using environmentally friendly methods.
Alterfin financing gives small farmers the opportunity to take their lives in hand and bring to the market products from organic and sustainable agriculture.
Regeneration and rehabilitation of cocoa trees in the Ivory Coast
With 1.3 million tonnes of cocoa a year, the Ivory Coast accounts for 40% of world supply. In total, over one million people grow cocoa trees there. Cocoa generates approximately 30% of export revenue and accounts for over 10% of GDP. So the country's economic and social prosperity depends heavily on it. However, many constraints threaten the sustainability of the Ivory Coast cocoa crops. One of these is the ageing of the trees and the difficulties of renewing them given the shortage of forest.
To deal with this problem, our partner Ecookim has started up a pilot project for the regeneration and rehabilitation of cocoa trees in the Ivory Coast, together with Rainforest Alliance. Alterfin and Impact Assets are contributing towards the project financing and responsAbility is providing technical assistance. A total of 335 members of Ecookim are to renew and rehabilitate their plantations. This project therefore enables the preservation or rejuvenation of trees and a better yield for the farmers.
New cocoa trees ready for planting. 
© 
Rainforest Alliance
Alterfin plants 8,000 trees in the Peruvian Amazon
Alterfin finances the reforestation project by one of its partners, the Acopagro cooperative in the San Martin region in the Peruvian Amazon. This project involves planting native trees within the producers' cocoa plots in order to develop model agroforestry systems which will ensure the long-term future of cocoa crops. In 2014 and 2015, 8,000 trees were planted thanks to Alterfin.
The Acopagro's reforestation team in Peru.
Agroforestry: mixing for better results
Agroforestry involves mixing trees and crops or pastureland to obtain a bigger yield. 'Agroforesters' gather together complementary plants able to protect one another against their parasites and promote one another's development. So there is less need for fertiliser and above all, pesticides than in conventional intensive farming.
Agroforestry also contributes towards the fight against erosion, salinisation and flooding. Finally, the soil quality improves and biodiversity is promoted.
Many Alterfin partners practice agroforestry which, in addition to the environmental benefits referred to above, also gives farmers better yields.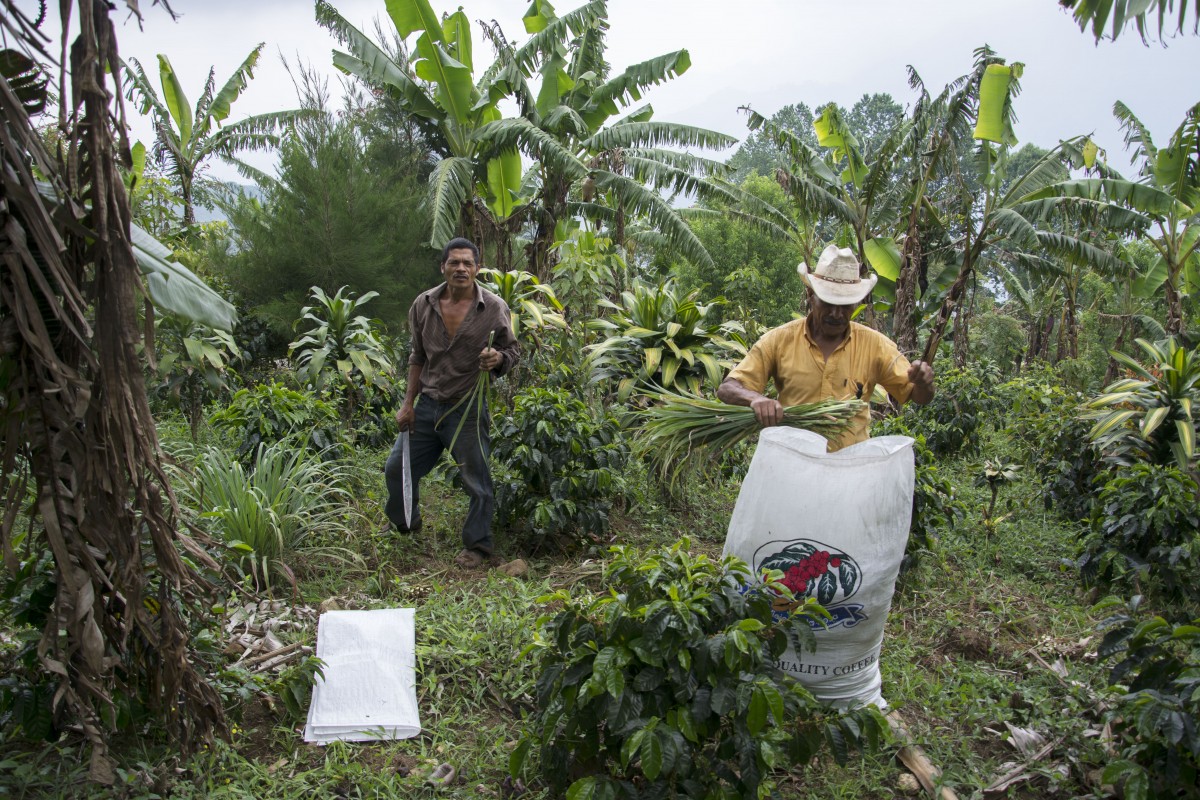 Organic fertilisers for better production
The Peruvian cooperatives Frontera and Divisoria, and the Honduran cooperatives Cocafelol and Comsa produce organic fertilisers which they sell to their members at a reduced price. These fertilisers have a positive effect on crops. Luis Rodriguez, member of Divisoria, explains: "Thanks to the fertilisers, I have been able to considerably increase my coffee production. Using 'green' products also lessens the risk of diseases. For example, my plants withstood the shock of rust (fungus that attacks coffee plants) two year ago."
Eco-gestures in the office
Finally, it is important to remember that even in the office, we can make numerous gestures in favour of the environment. At Alterfin, all the paper is recycled and we print on recycled paper. The electricity comes from sustainable sources and the cleaning products used have a minimal impact on the environment. All the waste is sorted and Alterfin staff go to work on public transport, by bicycle or on foot.
Ook op kantoor kunnen we een bijdrage leveren aan een beter milieu. Bij Alterfin wordt papier voor 100% gerecycleerd en worden alle documenten gedrukt op gerecycleerd papier. Onze elektriciteit is afkomstig van duurzame bronnen en het schoonmaken gebeurt met milieuvriendelijke producten. Al het afval wordt gesorteerd en het personeel komt uitsluitend met het openbaar vervoer, de fiets of te voet naar het werk.