With its sustainable financing, Alterfin is working to improve the quality of life of thousands of families and contribute to the many Sustainable Development Goals (SDGs) set by the United Nations. Here are the main actions taken by Alterfin and its partners to meet the objectives. You will find the full overview in the Annual Report (pages 16 to 31).
No poverty
Alterfin and its 155 partners work together on behalf of more than 1.8 million people and their families. 80% of poverty occurs in rural areas, which suffer greater levels of exclusion from financial, educational and health services. For this reason, Alterfin chooses to invest mainly in rural areas, by financing organisations involved with sustainable family farming and microfinance institutions. These organizations are income-generating for financially disadvantaged people and offer savings and insurance services that help them move out of poverty more easily.
Alterfin favors rural areas to reach the poorest people, like this farmer who sells his cocoa to our partner Kennemer in the Philippines.
Zero hunger
Investing in small farms in developing countries is an important way to improve food security and nutrition for the world's poorest, and to increase food production for local and global markets. Alterfin is actively contributing to this goal by supporting 71 organisations involved with family, organic and socially engaged agriculture for fairer trade that respects both people and the environment. Almost 100,000 small producers and their families benefit from these investments. In addition, Alterfin is working to fund microfinance institutions that take a particular interest in the rural world and contribute to local food security by providing microloans to more than 300,000 small farmers.
Sustainable agriculture is a major lever to fight hunger and poverty, as for those cocoa farmers of the ECOOKIM cooperative in Côte d'Ivoire.
Gender equality
Gender equality is not only a basic human right, but also a necessary foundation for a peaceful, prosperous and sustainable world. Economic inequalities between genders, which hold back economic growth and development, and the disproportionate presence of women among the world's poorest people, are both justifications for providing specific support for women. Alterfin continues to focus on promoting women and supporting their independence. Moreover, women tend to spend more on their families, so that increasing their incomes means ensuring a financial autonomy which benefits the whole family. In line with our ambition, 55% of our partners' clients or producers are women.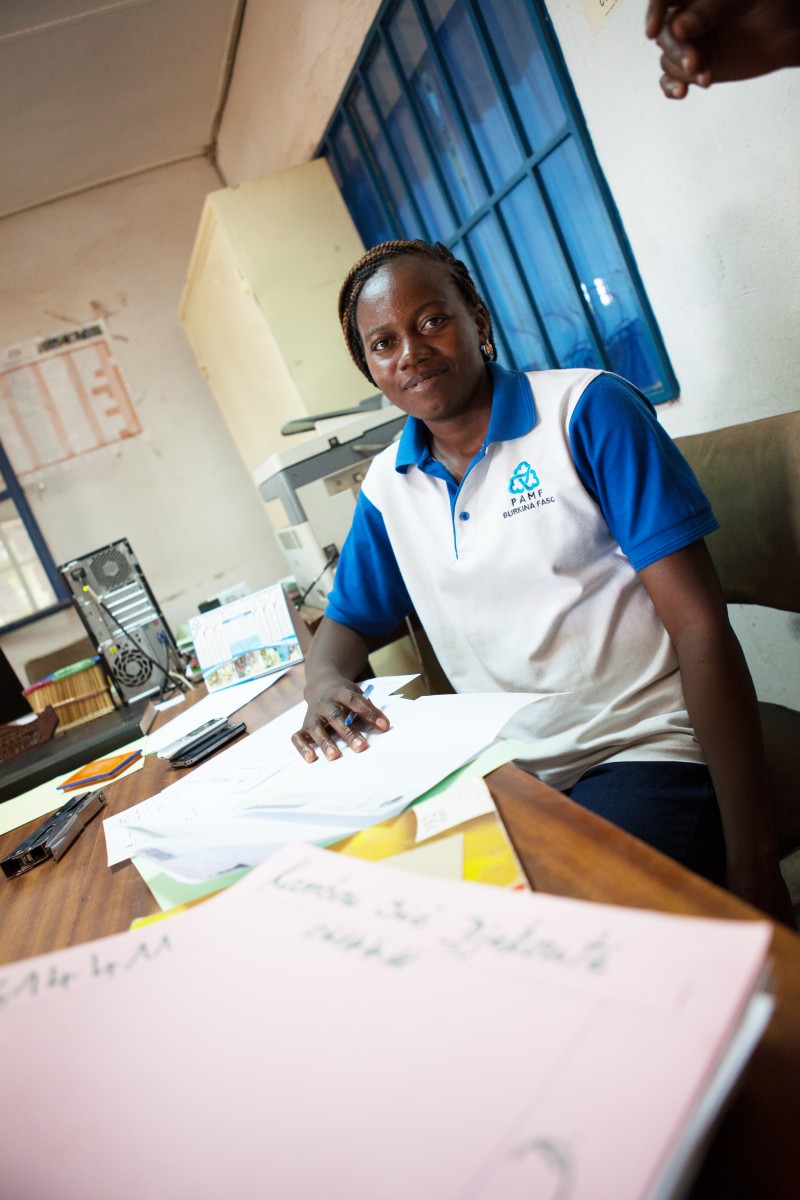 An employee of the PAMF microfinance institution in Burkina Faso. The financial inclusion of women is a key element for development.
Decent work and economic growth
By financing microfinance institutions and organisations involved with sustainable family farming, Alterfin is working to stimulate both decent employment and growth. The financing granted to our partners helps them to develop their activities and boosts internal job creation. In addition, it indirectly supports the growth of small and medium-sized enterprises – our partners' beneficiaries – by helping them access the formal financial sector, in particular by giving them access to financial and inclusiveness services within agricultural value chains.
Consommation & production responsables
Climate action
Alterfin finances agricultural organisations which whose crops are certified as organic, as well as encouraging ecological initiatives on the part of its partners such as the adoption of environmental management policies or the issuing of loans for the generation of green energy by our microfinance partner institutions.
Alterfin also adopts environmentally friendly day-to-day practices at its headquarters, in particular by encouraging the use of greener transport options by its employees, using recycled paper and environmentally friendly cleaning products and sorting waste, including composting. Finally, responsible production is pointless unless the entire value and supply chain is systematically and comprehensively included; Alterfin therefore gives preference to fair trade, is committed to responsible consumption, and considers the environmental impact of its activities with a view to reducing that impact. Alterfin was granted the Fairtrade@work award by Fairtrade Belgium.
Partnerships for the Goals
Alterfin is committed to its 155 partners spread across 34 countries, but also to networks, initiatives and partnerships with organisations that are working towards the same goal of a more united, ethical and prosperous world. In this spirit, Alterfin, along with others in the sector, was behind the creation of social investment funds that enable it to increase its reach and its impact on its partners. Alterfin also works with international and local networks to mobilise resources and expertise which, when pooled, generate fruitful collaboration and benefits for all stakeholders in the sector, with a particular focus on the final beneficiaries.

Example of an sustainable investment
PAMF (Première Agence de Microfinance) has some ten branches and more than 30,000 clients across Burkina Faso and Côte d'Ivoire: two countries which are among the poorest in the world according to the Human Development Index drawn up each year by the United Nations Development Programme. The average loan granted by PAMF represents just 60% of the average gross domestic product per capita in Burkina Faso and 45% in Côte d'Ivoire, confirming its focus on the poorest people. This is also confirmed by its strategic presence in rural areas, where its portfolios are concentrated (86% and 60% of the portfolio respectively). PAMF has therefore established its position as key development actors.